How to Use Toyota Intelligent Park Assist
One of the great things about cars today is that more and more of them are coming with high-tech features like, 'automatic parking'. For Toyota vehicles, this features is called Intelligent Park Assist. This feature comes optional on all new Prius models. While all new Toyota models come with parking assist sensors. Let's take a look at how the Toyota Prius' park assist works with a little help from Todd Friday.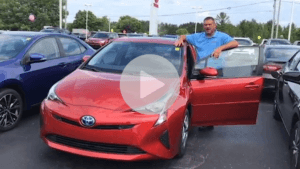 Step-by-step by Todd Friday
Hello, everyone, this is Todd Friday at Fernelius Toyota, today I'm going to demonstrate how the 2018 Toyota Prius will park itself. It's called "Intelligent Park Assist".

Okay to park the vehicle or to have the vehicle park you, what you have to do is locate a parking spot that it recognizes once you do you press the Park Assist button and just follow the directions on the screen. All you have to do is apply your brake but also watch for the surroundings to make sure there's no people coming out and follow the directions. It'll tell you to put the vehicle in reverse as well as forward until it adjusts correctly to the parking spot.

And we're finished look mom no hands!