Top 5 Reasons the RAV is for All Generations
The new Toyota RAV4 is not your typical vehicle. It appeals to different generations and segments of the population, often times for the same reason. The features of the RAV4 have grown with technology and society over the years, and the reviews are clear: this compact SUV is in a league of its own. Listen to our very own Todd Friday as he explains the Top 5 Reasons the RAV is 4 All Ages.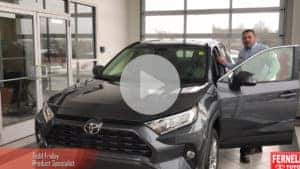 The Top 5 Reasons:
Ease of exit and entry
Economical
Dependable
Safety
Versatility
Check out our new Toyota RAV4 inventory today. Or, if you need a larger SUV with three rows, consider the new Toyota Highlander.
Transcript Below:
Hi, my name is Todd Friday and today we're going to talk about the top five reasons the 2019 Toyota RAV4 is the RAV for all ages. Reason number one is ease of access for people of all ages and sizes. In the backseat, there is the capability for two car seats. The seats fold flat to add extra room for cargo. Reasons number two and three are that the RAV4 are both economical and dependable. With best in class MPG and hybrid models available as well as low cost of ownership. Reason number four is safety. The 2019 Toyota RAV4 comes with Toyota Safety Sense which includes Dynamic Radar Cruise Control as well as Lane Trace Assist. Reason number five is versatility. Whether you're going off-road, towing the camper, or just going on the town the 2019 RAV4 is the RAV for all ages.